With 2014 just starting and new adventures about to begin, I thought I'd revisit a post from travels past. My intention is to crank up ye ol' blog and start writing again. I hope you enjoy it!
I didn't want to like Balzano!
Bookings had already fallen through and I could tell the instant that I left the security of the train that I was going to have to think. Welcome to Italy!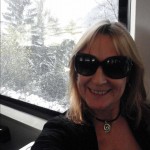 I had just enjoyed fabulous snowy scenery on the trip from Munich and I didn't want the dream to end and so it was with some trepidation that I walked back from the lampost and into the wardrobe.
There was nothing wrong with the square outside the station so I walked around it… twice.  Where was the promised 10A bus as described online by the only hotel with a room still available? Where was the tobacconist who could sell me a ticket? Where were any directions at all?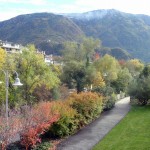 I found the bus stop for 2,3,5,6,7 &11 and there were taxis nearby but I wasn't quite ready to accept defeat this early in the game… so I continued to search for the 10A stop. I walked around the square again dragging my bag in that typical tourist dance before finding myself back at the station. Ok, I'd give them a second chance!
Success!  Tobacconist found, I requested a 'ticket autobus' and the woman behind the counter asked 'where'?
I had no idea really but responded by showing her my '10A bus' online note. I think she then signalled the town centre. Well, her finger moved in a circle around an imaginary city centre… or stirred a fictitious pot. 'Si! Gracie!' said I and paid a couple of euro.
With such a success and feeling on a roll, I thought I should ask again where I could find the 10A bus. Actually, I showed her my note again that clearly stated 10A autobus. 
She looked at me blankly… obviously she sold tickets and not directions and so I left with my insecurities clearly intact.
I walked outside to a now very familiar looking square and confidently walked in the opposite direction convinced that miracles can happen if you look at life from a different perspective. Zap! I came to the taxi rank. Defeated? Yes, I jumped in a cab and was at my hotel in five minutes… passing the illusive 10A bus at its stop on my way.
The hotel didn't really speak English. Hmmm, and clearly I didn't speak Italian until 3am and after several reds. They also did not have tour brochures. I then discovered that the whole town does not have tour brochures or in fact, tours at all.
Apparently… that's its charm! You discover it for yourself. A whole new kind of tour where you make it up and have to think!
Challenge accepted!
The next day I woke at the crack of noon and wandered back into town to find the markets. I wandered slowly, shifting down a gear to soak up all the rich colours and intruding aromas. Strolling down the promenade of speciality shops, I smelled the leather and imagined myself draped in poise and charm… just like all those beautiful intimidating women I saw around me.
Eventually (don't ever believe an Italian map) I found the modern art gallery and was so underwhelmed that I decided instead to give my art history side a go and visit a medieval castle with murals dating back to the 12 century. Smart move! This was wonderful!
The bus had dropped me at the bottom of the hill so I climbed the obligatory cobblestone pathway past hillside vineyards to the castle entrance where I drank my fill of medieval  dreams and lifetimes before dining on three different kinds of dumplings and local wine and deciding to amble back along the riverside with autumn dripping on either side and with snow-capped mountains painted into the background.
  In Bolzano, I drank the best coffee of my life, dawdled over beautiful wines and historic art, enjoyed wonderful food in a mediocre hotel but I also had the chance to imbibe the locals for two bella days and niotti in Northern Italy. Sometimes, no matter how hard you fight it, you just get lucky!
 Yes, I had to think!  I might try that again one day!