Day 15: 2 March 2009
Premier's ABN AMRO Creative Arts Scholarship Study Tour 
Sydney (Aust) – Halifax – Sydney (Can) – Montreal – Toronto – New York
MONTREAL
'We can try to avoid making choices by doing nothing, but even that is a decision.' Unknown
Oh la la… Montreal… she is the most beautiful!!!
Ever since I have been here I have walked around listening to the most beautiful language. I love everything French! Their language is lyrical and I do not understand more than about three words: Merci beaucoup! Oui!… and I am sure that I say them with a horrible Aussie accent crossed with the Scottish accent of my French teacher who taught me years ago in school. Their food is divine and the women here are just beautiful!
This morning I took myself to visit the Musee d'art Contemporain de Montreal… but Oh! Surprise! It is closed on Mondays! This has happened to me quite regularly throughout my life when travelling and I must learn in future to check opening hours of venues on something called the i-n-t-e-r-n-e-t.
Years ago, I visited Romania and was so excited to go to the Musée d'art de Bucarest hoping to see sculptures by Brancusi… it was closed…twice… on separate visits!
Who else do you know has ever missed the changing of the guard at Buckingham Palace…well, the day that Rob and I chose to visit was not a scheduled day…who knew they didn't do it every day?? I'm pretty sure we had the right gate… it was big, black and gold on the top and right in front of Buckingham Palace!
And so what is a girl to do with her morning?
I thought I should take myself shopping! Tiny snowflakes drifted down softly onto my shoulders as I walked the streets. It was so light and delightful… but…within metres of stepping outside I felt a cold like never before. I pulled on my cap but felt my face sting with the cold so I covered my mouth with my gloved hands. I walked quickly to find the first and warmest entrance…oh what a find! Burberry, Hugo Boss, Chanel, Guess, Louis Vuiton… but then I had a reality check and headed off into the cold and back down the street. 
There were so many other wonderful shops and so many choices. In fact, I had so many choices that I could not decide… and so.. overwhelmed with the whole event, I decided on a manicure just so I could sit and watch all these people before I headed back to my hotel along the -6C street avoiding those slippery little icy patches that I'm sure will be the undoing of any poise or elegance I am pretending to own.
That evening, I met Earl Pinchuk and Gary Blair from The Art For Healing Foundation. We met over dinner and discussed so many wonderful things. These two men came up with the most exciting idea… that works…and I couldn't wait to see it the next day in action!
Day 16: 3 March 2009
Premier's ABN AMRO Creative Arts Scholarship Study Tour 
Sydney (Aust) – Halifax – Sydney (Can) – Montreal – Toronto – New York
ART FOR HEALING FOUNDATION
MAIMONIDES GERIATRIC CENTRE – MONTREAL
'The happiest people are those who have learned to live beyond their own special interests by discovering the rewards that come from giving of themselves.'
Children innately do this! I am excited to see adults do it!
The Art For Healing Foundation is an inspirational story that began about seven years ago by two compassionate men, Earl Pinchuk & Gary Blair who didn't just talk about a problem…they acted! I have had the privilege to discuss with them how they are managing to positively affect the lives of people in hospitals. Today we visited the Maimonides Geriatric Centre to observe artworks that Earl & Gary have arranged in partnership with the Maimonides Foundation to be placed on the walls of this state of the art facility. Our invaluable guides on this tour were Karen Flam, Director, Foundation & Ann Nagley Development Officer, Foundation along with their warm and dedicated Head Nurse, Nicole.
I discussed with staff what they thought the effects of these artworks had upon the patients, their families and other staff and I noticed one factor that was constantly repeated:
 'Viewers react positively when they connect a personal memory to an artwork.'
Remember that many of these patients have dementia and there memories are of long ago:
Ann, Karen & Nicole                           Hebrew Alphabet           
A house like they grew up in   A Musician  
A Familiar Animal?
Operation Art is about Children Making Art for Children in Hospital – connecting memories for their peers. Have you ever been given a card or a picture drawn by a child when you have not been well and they say 'I hope this makes you feel better'?
Maybe we shouldn't forget some things as we grow into adults. 
Some Thoughts:
I think most people understand that art creates a reaction within us. If a picture is placed in front of you then your first action is to say whether you like it or not. A life devoid of action is no life at all.

Research shows that art improves the healing process… so why is there no funding yet?

I wish that art galleries were as valued by everyone as much as pharmaceuticals are now… imagine a day when a doctor can also write a script for 2 Monet's and a lie down! Better still… I might become addicted to a Miro or a daily Whiteley!

When will education in the arts be given the perceived value that other subjects enjoy?
Comment: 4 Comments


Day 17: 4 March 2009
Premier's ABN AMRO Creative Arts Scholarship Study Tour 
Sydney (Aust) – Halifax – Sydney (Can) – Montreal – Toronto – New York
MONTREAL
MONTREAL CHILDREN'S HOSPITAL – ART FOR HEALING FOUNDATION
MUSEE D'ART CONTEMPORAIN DE MONTREAL
'I don't want to turn the TV on because it will offend my senses after a day like today.'  Fiona Steel
I usually have the television on in a room when I'm working. It is not so much for watching but just a quiet droll noise that keeps me company. On my way home today a thought came to me that I just wanted the impressions and images of such a wonderful day to remain longer and not to become devalued by the intrusion of triteness.
My day began with Earl taking me to meet Sally Cooke, Art Therapist in the Gilman Pavillion at the Montreal Children's Hospital where the Art For Healing Foundation has contributed a range of artworks to various departments.
It was a joy to meet Sally and discuss how she uses art to assist young patients to express themselves and deal with the real issues they face.
Sally explained that she had asked AFHF for this particular artwork because she saw herself as the lighthouse guiding her young patients who were sailing through rough waters.
Earl then introduced me to Teresa Di-Bartolo, Director of Architectural Services at Montreal Children's Hospital. I had great pleasure in handing over two of the Operation Artworks that had been sent to the AFHF.
Teresa then guided us around this very busy hospital pointing out artworks and installations within every department. Many which had been installed by the Art For Healing Foundation.
I finshed my day with a visit to the now open fabulous Musee d'art Contemporain de Montreal. An outstanding building where I enjoyed a very grown up lunch before checking out the numerous education programs offered. It was a pleasure to see that their workshop space can be viewed from the entrance and I was even more thrilled to see that art education is enthusiastically valued and realised this is a working gallery with often used workshop space.
The main exhibition currently is Claude Tousignant but the highlight of my afternoon was the visual projections of Takashi Ishida & Yuki Kawamura. I must admit that I went inside the darkened projection room looking for a seat where I could hide for a while, practice tying my scarf and to give my feet a rest. My unawareness was soon replaced as I was magnetically drawn into Kawamura's 'Nova', a fragile world of digital sight and sound. What a pleasure to sit and watch these translucent, ethereal images unfolding before me, appealing to my innermost desire for pure aesthetics. I felt awakened… softly.
Eventually I pulled myself away and walked outside into the harsh light of day. That's when I decided that I needed all the images from today to remain with me for just a little longer.
Comment: 2 Comments
Day 18: 5 March 2009
Premier's ABN AMRO Creative Arts Scholarship Study Tour 
Sydney (Aust) – Halifax – Sydney (Can) – Montreal – Toronto – New York
MONTREAL
MUSEUM OF FINE ARTS – SHARING THE MUSEUM
ART FOR HEALING FOUNDATION 
'You know the gallery walk??'  Enrique Ferreol
*his eyes twinkle with mischief as he shifts his weight to one foot , leans back, folds his arms thoughtfully and peers at an imaginary artwork with one eyebrow raised… he then looks to the right of the artwork to read the imaginary information panel and places one finger against his cheek in deep thought and reflection*… repeat throughout exhibition  
I think people sometimes spend more times reading labels and looking thoughtful than enjoying artwork. Others spend more time in the gift shop at the end deciding which is the correct card or souvenir to take home or send to a friend… so they may distribute their enlightenment and knowledge of cutting edge culture, if that exhibition is fashionable then they can tick that box.
I was VERY aware today of Enrique's insightful comment as I looked around the Musee de Beaux-Arts de Montreal or better known to some of us as The Montreal Museum of Fine Arts. Every time I shifted my weight, looked at a label or thought too hard… I reminded myself to trust my ability to enjoy the artwork… once again, as a child does innately.   I asked myself questions that Enrique might have asked if he was my tour guide. I looked for my connection with the artwork and wondered what Van Dongen was thinking as he painted. What might have been the banter between the artist and his model. Who was he out to impress? The model, no doubt! Who was he trying to shock? The critics, always!
Comment: Sometimes we make art out to be more precious than even its creator intended. Sometimes I believe art should be enjoyed for its everyday flavour. This is why art should be around us each day, in schools, in hospitals and not just in galleries. Children do it, teenagers continue it and even make social statements through graffiti until they grow into adults and keep their art without statement and just match it to the curtains.
Art has a vital role. The Art For Healing Foundation installed artworks at Hopital Hotel-Dieu de Montreal.
BEFORE                     and                         AFTER
I then toured with Earl and Gary to see AFHF installations in the Royal Victoria Hospital and Montreal General Hospital.
I visited the Fine Arts Museum to meet with Marilyn Lageuness and Richard Roy to discuss Sharing The Museum. This is a program linking the gallery to communities and schools and I was thrilled to hear about regular free programs for teachers offered after school hours which were often fully booked.
The value placed on arts education is enlightening with funding coming from the private sector and contributing to visual arts education. Oh… I can only dream!!!
Comment: 2 Comments
Day 19: 6 March 2009
Premier's ABN AMRO Creative Arts Scholarship Study Tour 
Sydney (Aust) – Halifax – Sydney (Can) – Montreal – Toronto – New York
MONTREAL TO TORONTO
'Les Fauves (French for The Wild Beasts) were a short-lived and loose grouping of early 20th century modern artists whose works emphasized painterly qualities and strong colour over the representational or realistic values retained by Impressionism.' Wikipedia, the free encyclopedia
A travel day is always a good day for reflection so I thought about the images of the last few days and how, as a teacher, I might use them.
I had enjoyed viewing the Ke artworks at The Museum of Fine Arts because the Fauves had always been a particular favourite of mine. It's a rare art class in high school that does not study Matisse's 'The Green Line'. I had adored Henri and his mates because they were not afraid to make a statement. They were known for their raw use of colour and their apparent passion for their style created an impact upon the art world. How often do we stand out so obviously? How often do we leave ourselves nowhere to hide? How often do we stand against the accepted academics of our time?
Visual Arts teaches us: mark making, thinking outside the square, innovation through layering, revisiting, adapting and reworking.
Visual Arts allows us to: create bold statements, understand subtleties, comment with colour and to initiate communication.
Visual Arts gives us enjoyment and validation. Visual Arts encourages originality.
Artworks add to our environment because they cause a response within each viewer….
… the Art For Healing Foundation knows this…
             …. just like the FAUVESdid! 
Day 20 & 21: 7 & 8 March 2009
Premier's ABN AMRO Creative Arts Scholarship Study Tour 
Sydney (Aust) – Halifax – Sydney (Can) – Montreal – Toronto – New York
WEEKEND 3 – SATURDAY & SUNDAY
'Creativity is as important in education as literacy and we should treat it with the same status' Dr Ken Robinson 2006.
Do something wonderful for yourself and listen to this man for just 20 minutes… and I bet you replay it!
Kids WILL take a chance!
   If they don't know then they'll give it a go!
      They're not afraid of being wrong!
If you're not prepared to be wrong then you'll never come up with anything ORIGINAL.
         We are educating CREATIVITY out of our kids.
               CREATIVITY is the process of having original ideas that have VALUE.
Many highly, talented, brilliant creative people think they're NOT because the thing they were good at in school was not valued or was actually stygmatised.
                          INTELLIGENCE is diverse, dynamic and distinct.
Our only hope for the future is to rethink the fundamental principle on which we educate our children.
Comment: 4 Comments
Day 23: 10 March 2009
Premier's ABN AMRO Creative Arts Scholarship Study Tour 
Sydney (Aust) – Halifax – Sydney (Can) – Montreal – Toronto – New York
DEATH OF MY LAPTOP COMPUTER
'There is no real quote today as we a grieving the very sad loss of a dear and devoted friend' Fiona Steel.
It is with the deepest sadness and a heavy heart that I announce the passing of my dearest friend and partner in crime – MY LAPTOP COMPUTER
At 5:07 , 10 March 2009 at my desk in Downtown Toronto, Canada while writing my blog for the previous day my rat of a computer, the low life, scum of the earth, deserting fiend and now very EX-friend… left me! Stranded! Alone! It uped and died on me! Dead in mid sentence! Only 10 more days until home! Oh, why oh why, couldn't it have waited just a little longer??? * heart-wrenching sobbing heard off in the distance*
After the initial shock, hand ringing and tears I have come up with a plan:
MIRACLE 1: It springs back to life (don't hold your breath on that one)
MIRACLE 2: I find a computer shop and they revive it (and me)
POSSIBLE PLAN 1: I use my phone to write my blog daily with the result that it will be a quarter the size, a little less long winded and you will all enjoy a conciseness of statement and a new efficiancy in my turn of phrase that has never been witnessed before.
PROBABLE PLAN 1: I find an internet cafe (like the one I'm in now) and I write it daily… it will be shorter and maybe less pics because I'm not sure how to upload them here yet… but I will add all insights and skills pics as soon as I return to Australia and buy a new friend. A new computer that will stand by me forever and not die in my time of need.
I met with Wendy Janes, Curriculum Consultant: Literacy/Visual Arts York Regional District School Board who introduced me to Mary Lawless and her team of consultants for this innovative and very large District School Board. I was excited to learn about their Artists In Residence pilot program that has been running for a couple of years now and look forward to receiving more info soon from the coordinator to share with you all.
Wendy then took me to two schools to observe some wonderful Visual Arts teaching.
Holland Landing Public School   and Kim Evans-Milak
Rina Singh is quietly teaching at Doncrest Public School and I hope her students really appreciate the precious resource they have available to them because the most recent images on the Insights & Skills page only reflect a tiny amount of what this teacher is passing on to her students.
Comment: 1 Comments
Day 24: 11 March 2009
Premier's ABN AMRO Creative Arts Scholarship Study Tour 
Sydney (Aust) – Halifax – Sydney (Can) – Montreal – Toronto – New York
TORONTO
CYTS – NEW MENTALITY – LIVING THROUGH THE ARTS 
We're here to help our clients make choices for themselves, they're so used to being told what to do.' City of Toronto Youth Services – Outreach
Today I watched them help these young people through visual arts. I watched the coordinator, Janice and the wonderfully motivating artist Jennifer Polo work quietly with the New Mentality Group. This is a group of youth in Toronto raising awareness about the stigma and discrimination faced by those with mental illness. Parts of it are a partnership through the Living ThroughThe Arts program that I will be looking at closer tomorrow.
As a teacher it was a pleasure to watch these students work together as a group. They maintained idiosyncrasies that are not always respected in mainstream educational institutions but are authentic to these individuals. They achieved and worked together with respect for each other and enjoyment for the visual arts experience. When asked about their reason for doing art, many responded with 'because I like it'. It validated them and encouraged them to accept themselves.
I will get some photos of their work up in the Insights & Skills page over the next few days.
I know as educationalists we encourage students to follow their passion and search for a career in their area of interest but often that is difficult to do in 'the arts'. It was great to watch Jennifer and listen to her speak about her passion for her job as an artist and how good it is to be able to pass on her knowledge to others.
Day 25: 12 March 2009
Premier's ABN AMRO Creative Arts Scholarship Study Tour 
Sydney (Aust) – Halifax – Sydney (Can) – Montreal – Toronto – New York
TORONTO
ROYAL CONSERVATORIUM OF MUSIC
LEARNING THROUGH THE ARTS – LIVING THROUGH THE ARTS
'WARNING! THE FOLLOWING INFORMATION COULD RADICALLY CHANGE YOUR VIEW OF EDUCATION' – Learning Through The Arts
Not all kids learn the same way.
Even the best teachers have trouble reaching all of the students all of the time.
When children are stimulated creatively, they are more engaged in the learning process.
I spoke with some inspirational women who gave me a better understanding of the partnerships involved between programs.
Nicole Arrends is the Program Leader of Living Through The Arts and is very aware of connecting the right artist with the right organization. She spoke about how the artist's passion for their artform is a motivational factor influencing the students.
Jennifer Polo is a practicing artist who presents a passion for her artform but because of her involvement in the past to both programs she shares a commitment to the partnership organizations and therefore to their clients or students. This bodes well for ongoing relationships with Outreach.
Kate Eccles is the Chief Creative Director for the Learning Through The Arts program and has a clear understanding of funding issues and yet retains an optimistic outlook for the future of these programs. She spoke of artists being 'fulfilled' in a world that is reductionist and how the arts allow us to express our uniqueness.
I saw my first cardinal!
I saw several really. They stand out brightly as small flickering colour against a blanket of sameness. They jump from one activity to the next, very focused and particular about what they are doing. I noticed them not because of their size but because they light up the world around.
I watched and couldn't take my eyes off this bright little light. I wanted to follow each and every action.
The cardinals I met this week were from Learning Through The Arts: Yvonne Simpson the Regional Manager GTA; Julia Arnold, Adele Jeffrey and Lies Ferriman, Educational Liaisons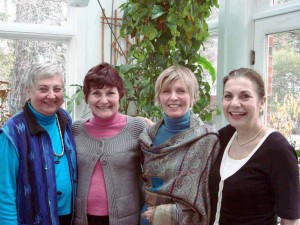 There is a worldwide phenomenon and education is changing. Like the 'Global Warming' discussion introduced years ago took time to build momentum and to become mainstream, so I believe we are currently watching Creativity in Education gain momentum.
       I am excited for education in the future.      
                                                   I remain ever optimistic!
Day 26: 13 March 2009
Premier's ABN AMRO Creative Arts Scholarship Study Tour 
Sydney (Aust) – Halifax – Sydney (Can) – Montreal – Toronto – New York
TORONTO
ART GALLERY OF ONTARIO
'A man paints with his brains and not with his hands.'  Michelangelo 
What an amazing experience!
Frank Gehry must be Toronto's favourite genius… I know he's mine this week!!
Two addicts visited the Art Gallery of Ontario
         …and one had the pleasure of meeting with Colin Wigginton and learning about this incredible site and all about their education programs which are far reaching into communities and schools.
I also heard more about the Group of Seven. These artists are well known throughout Canada and since I had arrived references to them had been sprinkled through many conversations that I'd enjoyed across this large white land. There is a strong connection between the AGO and this notorious group.
The Group of Seven were a group of Canadianlandscapepainters in the 1920s, originally consisting of Franklin Carmichael, Lawren Harris, A. Y. Jackson, Frank Johnston, Arthur Lismer, J. E. H. MacDonald, and Frederick Varley. Tom Thomson (who died in 1917) and Emily Carr were also closely associated with the Group of Seven, though neither were ever official members. Stuart McCormick of Alexandria, Ontario (near Cornwall) was also asked to join the group but declined, preferring the privacy but still touring with the troop. The Group of Seven is most famous for its paintings of the Canadian landscape. It was succeeded by the Canadian Group of Painters in the 1930s.The Group of Seven was strongly influenced by European Impressionism of the late nineteenth century in the Montmartre district of Paris.
Oh, what a clever people these Canadians truly are!
Comment: 1 Comments
Day 27 & 28: 14 & 15 March 2009
Premier's ABN AMRO Creative Arts Scholarship Study Tour 
Sydney (Aust) – Halifax – Sydney (Can) – Montreal – Toronto – New York
WEEKEND 4 – SATURDAY & SUNDAY 
When my daughter was about seven years old, she asked me one day what I did at work.  I told her I worked at the college – that my job was to teach people how to draw.  She stared at me, incredulous, and said, "You mean they forget?"  ~Howard Ikemoto
Sometimes as adults we forget many things and so this weekend I took my own daughter to visit one of the world's most famous tourist sites in North America. I wanted to remember what it is like to discover something completely new…. something that I thought I already knew all about… so we visited Niagara Falls.
What did I learn that was new to me?
There are 2 waterfalls… why did I not know that????
You can view the Canadian falls from underneath or behind…instead of in those boats that are put away during the wintery months when only the hardiest of tourists are around.
What did I think I knew…. but have now learned properly?It is cold!!! I thought I understood what cold was until I stepped outside near the falls and the spray turned everything to ice… including me. I also learned that the plants spring back to life after this icy winter and flourish in the spring.
I have always learned things visually… and it was not until today when I saw Niagara Falls… and it touched me.. that I really learned about it and will remember. Students learn in a variety of ways and as a teacher we must always give all of them the best opportunities. Like myself, many students need to learn in a particular way and we are neglecting them with current methods.
Only when I get home and create artworks about my experience today will I truly learn and remember.
I need to ask the question again… when will 'learning through the arts' become the normal way to teach?
Day 29: 16 March 2009
Premier's ABN AMRO Creative Arts Scholarship Study Tour 
Sydney (Aust) – Halifax – Sydney (Can) – Montreal – Toronto – New York
TORONTO TO NEW YORK
'New York, New York
I want to wake up in the city that never sleeps
To find I'm king of the hill, top of the heap
These little town blues
Are melting away'
We landed at LaGuardia after a short and uneventful flight from Toronto and were greeted by New York's friendliest cabbie who, after my initial stunned agreement to follow him, strode off with our luggage. My choices promptly vanished… and we followed… like lambs to the slaughter!
He bundled us and our bags into a huge black vehicle and gave me a set price, after I asked for one… I had learned some things over the last month after all. By the time we'd arrived in downtown Manhattan the price had risen by $20 due apparently to tolls, taxes and because the cabbie could….we paid with a mixture of US and Canadian currency because that's all that we could!
We checked into our shoebox size room and then excitedly stepped out:
'O
ne belongs to New York instantly, one belongs to it as much in five minutes as in five years
' Thomas Wolfe
"They say life's what happens when you're busy making other plans. But sometimes in New York, life is what happens when you're waiting for a table." Sarah Jessica Parker
At moments of great enthusiasm it seems to me that no one in the world has ever made something this beautiful and important. MC Escher
How many clichés and quotes are enough to describe how this city totally overwhelms me? I feel engulfed by everything and I feel like I'm just standing still. Everyone is so very active, everyone moves and everyone communicates… all the time. I feel exhausted watching. I'm sure I'm just a tiny insect waiting to be devoured or at least trodden underfoot.
Later that night as we walked home, Madison Square Garden opened up and people spewed forth into every available space available. Some show had just finished and the street was now awash with yellow cabs for blocks, honking horns, people dodging vehicles, a army of black ants swarming… the pace was frenetic… alive!
I walked back excited and energized.
Once I had learned the pace these people move at…how many galleries would I be able to fit in?
What programs would I discover?
Would they connect students and teachers?
How original is New York really??
What was I about to learn???
Day 30: 17 March 2009
Premier's ABN AMRO Creative Arts Scholarship Study Tour 
Sydney (Aust) – Halifax – Sydney (Can) – Montreal – Toronto – New York
NEW YORK
NEW YORK
'So much to do in so little time' Fiona Steel
Today was a planning day, to reconnoitre, confirm appointments and just realize how very lost one can become in this huge city.
20 things I found out today:
1.    When I'm lost at 89th I know that I'm UPTOWN as opposed to when I am lost at 29th I  
       am DOWNTOWN.
2.    Catching the subway is easy.
3.    Catching a cab is easier.
4.    Catching an open red bus gives more info but can be cold in the wrong seat.
5.    Catching the Statten Island Ferry is free.
6.    The Statue of Liberty is a beautiful fire hazard and death trap waiting to happen.
7.    Ground Zero is all about 'construction' and not 'destruction'.
8.    Brooklyn has more people in it than Sydney (Aust).
9.    The view from underneath the Brooklyn & Manhattan Bridges is as good as on
       top….until the sun goes down!
10.  Broadway crosses diagonally through this grid of sensibly numbered streets.
11.  Canal Street is where I should shop.
12.  Greenwich Village is where I should live.
13.  There once was a wall at Wall Street and cannon batteries at Battery Park but no piers 1-
       16 before you reach Pier 17.
14.  Tribeca, Hell's Kitchen, MeatPackers, Soho and Noho are all real districts, while Harlem
       is uptown Chinatown and Little Italy are downtown, the East and West side are exactly  
       there with Central park fairly much in the middle. Fifth Avenue runs down one side of it
       and Madison and Park Avenue are parallel to Fifth.
15.  The Hudson River is now known as New York's next best airport.
16.  The Flat Iron building is in the shape of an iron.
17.  Times Square is frantically energized… always!
18.  New Yorkers are ALL on fast forward.
19.  All the great galleries and museums are uptown and I don't know where to start.
20.  I'm not going to have enough time… in fact; there could never be enough time!!
Comment: 4 Comments
Day 31: 18 March 2009
Premier's ABN AMRO Creative Arts Scholarship Study Tour 
Sydney (Aust) – Halifax – Sydney (Can) – Montreal – Toronto – New York
NEW YORK
SOLOMON R. GUGGENHEIM MUSEUM
'The space within becomes the reality of the building' Frank Lloyd Wright
There are quite a few things on my 'Things To Do Before I Die' list and very close to the top is a visit to the Solomon R Guggenheim Museum in New York…. and to buy a snow dome! To me that says it all – the meeting of two extremes – a modern minimalist concept, that unconventional spiraling shape combined with the ultimate ugliest symbol of tourist clutter and claptrap.
I studied the architecture of Frank Lloyd Wright when I was at school and so for me to spend time in this iconic building was, as that treasured old cliché blatantly states, 'a dream come true'.
Walking up the side street toward it was exciting! Waiting for it to come into view was a thrill! Other buildings towered repetitively straight up, row upon row, varying heights but always that constant flat box like structure that their designers had planned.
I knew the Guggenheim would be different… an extreme opposite. When it came into view, I was not disappointed – it's the most beautiful shape of any building that I have ever seen – but I was surprised at its size! Does size matter?
It's not huge. Is this a trick of the mind grown over time? Or is it something we do with objects and/or people we raise to a god-like status? Do we expect their size to mimic our adoration?
I remembered seeing the Mona Lisa my first time and being positively scandalized by its tiny size. Surely it should have been bigger… it's PR job had been! Surely it should have been just like Picasso's 'Guernica' which had moved me to tears with the impact of its statement and its size. I might be a lover of minimalism… but I want lots of it! My personal motto is 'Everything In Excess' and I expect others to abide by my expectations.
Inside the Guggenheim does not disappoint. In fact, now it seemed larger and I remembered once again my love for the genius of Frank Lloyd Wright as I wandered up the spiraling ramp until I stood before the 'altar to Kandinsky' and paid quiet homage to the master. A group of students sat on the floor and drew, responding to this pioneer of abstraction and his fabulous artworks.  What more could I have asked for?
My day was complete:  Masterful use of colour, line and abstraction within a minimalist space inside the iconic design of a genius, encouraging the next generation to think creatively. Perfect!
HAPPY BIRTHDAY MAX!!! I really enjoyed your birthday
Comment: 2 Comments
Day 32: 19 March 2009
Premier's ABN AMRO Creative Arts Scholarship Study Tour 
Sydney (Aust) – Halifax – Sydney (Can) – Montreal – Toronto – New York
NEW YORK
YALE – NEW HAVEN CHILDREN'S HOSPITAL
My Personal Motto: 'Everything In Excess'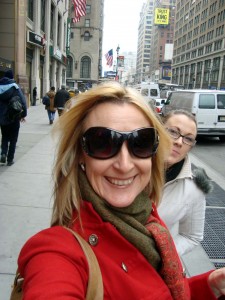 Today I was to meet Janice Baker who coordinates the Arts Enrichment program at the Yale- New Haven Children's Hospital. Unfortunately though, after I left the fabulousness of the Guggenheim Museum I somehow did an injury to my leg.
Not being a fit and healthy specimen of a human being (remember my motto: 'Everything In Excess') I can't tell you the exact nature of the injury but I'd imagine due to the non existence of any fitness plan in my life that I have reached burn out, suffice to say, I have pulled some muscle or whatever in my upper leg and am now finding it difficult to sit, stand, walk, move forward, backward, up, down or sideways in any and all directions. Apparently I am not good at suffering silently and feel compelled to tell everyone who ventures within a close proximity of my painful leg (once again remember: "Everything In Excess').
And so, after my injury, I met shortly with Carrie McGee at MoMA but felt it best to cancel my whole day with Janice because I feared she may have felt more like 'putting me down' permanently by the end of the day rather than enriching my life through the arts.
Result: I am lying uncomfortably on my bed, feeling miserable, vowing to learn to exercise consistently and listening to life going at a whirling New York pace outside my window.
Resolution: I refuse to be broken 2 days before the finish line of my 35 day Study Tour. I still have galleries to visit, people to meet and programs to discuss!
Remember: My Personal Motto: 'Everything In Excess'
Day 33: 20 March 2009
Premier's ABN AMRO Creative Arts Scholarship Study Tour 
Sydney (Aust) – Halifax – Sydney (Can) – Montreal – Toronto – New York
NEW YORK
MoMA – MUSEUM OF MODERN ART
'Where the Arts flourish, so does tolerance and enlightenment' Nelson Meers
Carrie McGee is the Assistant Educator, Community & Access Programs, Department of Education at MoMA – Museum of Modern Art in New York. Like many New Yorkers she is vibrant and very clever. Her knowledge of programs that MOMA runs in partnership or for community organizations is overwhelming.
I should not have been surprised by the scale of programs offered by this internationally renown and world leader in the Arts but I was most pleasantly surprised to learn that their educational approach is based on:
'An experiential, participant-centred model that emphasizes active, hands on learning and the nurturing of skills based on the individual's learning style and abilities'.
The programs offered by MoMA serve children, adults, families and seniors, non profit community groups, schools, continuing education, facilitators and camps. Their professional development days for teachers are off and on site and link the exploration of the arts to various disciplines eg: Arts & Literacy.
Finally, all these programs are generously funded through philanthropic foundations and endowments. This is wonderful… however, I must still ask the question: ' When is funding to the Arts and Arts Education going to become fundamental to every government's education policy and budget'?
Have you ever seen a cake stall held to raise funds for military weapons?  No!
It is time to balance the funding scales…
        …………our children deserve the BEST education!
I am still having incredible difficulty accessing a computer and the internet. This may well be my last post until I return to Australia this weekend, where I will update all links, add self explanatory images and add new information to the 'Insights & Skills' page.
Day 34: 21 March 2009
Premier's ABN AMRO Creative Arts Scholarship Study Tour 
Sydney (Aust) – Halifax – Sydney (Can) – Montreal – Toronto – New York
NEW YORK 
MoMA
NEW YORK – VANCOUVER – LOS ANGELES – SYDNEY (AUST) 
Live Hard, Create Compulsively, Die Young  – New York Times
'Everything In moderation.' Aristotle
Martin Kippenberger never got this and neither do I!
Kippenberger's exhibition is a rare glimpse into a mind on fast forward – one that New Yorkers love – and where better to find it than at MoMA. His raucous style changes and comments from one room to the next and sometimes I need to check it's the same artist.
After Kippenberger, I indulged myself the luxury of their permanent collection. Walking towards Picasso's '3 Musicians' I realized how very lucky I have been… but rounding the corner to find his 'Harlequin', followed by my much adored Brancusi whom I'd previously missed in Bucharest, made me realize that I was indeed very very blessed.
Imagine my joy and amazement when these were followed by Braque, Gris, Leger, Delaunay, Klimt, Chagall, Kupka and my dear dear Oskar Kokoshka. My reason for living at that moment became obvious when I was confronted with Picasso's 'Les Desmoiselles D'Avignon. Striking, poised and menacing, these five strong women held the attention of everyone in the room.
Was it the most powerfully influential work in the development of Cubism? Was it in reaction to Matisse's 'Blue Nude'? Was there a rivalry between Matisse and Picasso? Students sat below Matisse's 'Dance' discussing the artist's intentions just as I had done at their age, except that I had only ever seen this great work in books and reproductions. I watched the students enviously wishing that I'd been born on a different continent.
These young people had this work at their fingertips. Its size, its bold statement spoke loudly and I listened and was enthralled by the students' confident insights and their joyous banter. There was recognition for the significance of this work and a respect for its influence but there was no awkwardness or formality with fame. They had done this on previous occasions. Lucky them!
Galleries are the best resource available to teachers and yet so many teachers are intimidated by them or don't understand how to use them. The best aspect of a good gallery is their commitment to building a relationship with their local community.
Often a good gallery will:
1.       have a permanent collection that has historical significance and can be used across other 
          curriculum areas
2.       have an education officer who can link art excursions with other KLAs or COGs
3.       have an officer or touring exhibit that can visit your school
4.       put teachers in touch with local artists who can visit your room – go on, try it!
5.       teach students using methods that are a little different or varied from you – we all need a change sometimes! 
I left New York this morning for home. It was a long 30 hour haul via Vancouver and Los Angeles and you seriously do not want to hear me complain about it… or the jet lag that followed. More will follow soon.