We wander for distraction, but we travel for fulfillment.  Hilaire Belloc
I believe the most fulfilling consequence of travel is the opportunity to immerse myself completely and enjoy a different culture. As this visitor in another country however, I am constantly surprised at the change that overcomes me as I begin to assume a new identity and for some unknown reason do things I wouldn't dream of doing at home. The intrepid traveller emerges from within and I become this invincible tourist, naively enthusiastic and totally unaware of any danger!
Towers taunt me to climb them to the highest heights and mountains become challenges that must be scaled. Why? Why can't I just be content with flying over them? Where did this inner mountaineer come from? I don't enjoy heights any more than I do exercise. They both scare me.
And yet during my most recent Bavarian treks, I have ascended the Zugspitze, climbed St Peters' tower and soared to the Eagles Nest!
Twenty years from now you will be more disappointed by the things you didn't do than by the ones you did do. So throw off the bowlines, sail away from the safe harbor. Catch the trade winds in your sails. Explore! Dream! Discover! Mark Twain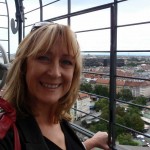 Thanks Mr Twain!  You inspired my newly acquired Teutonic temperament and this week I felt compelled to climb the tower of St Peters in Munich to get a view I could quite easily have found on the internet. There were 306 steps… or was it 360? I lost count around 200 while I had my heart attack!!  
And so the question remains… why? Why do I have a need to walk in these footsteps of the robust and brave? When I'm at home, I don't even walk up the street.
Not having learned my lesson, I joined a strangely, trippy, little tour group to the Eagle's Nest. We follow our guide like mindless lemmings onto a specifically designed bus that winds six kilometres up the knife edge of a mountain. The views are as spectacular as they ride is terrifying but finally we are dropped at the entrance of a tunnel.This eerie passageway leads us two hundred metres straight into the mountain to a circular marble holding room that is lit by candles.
On the opposite wall is a heavy doorway and we wait. Finally, the golden doors slide open and we enter the original elevator and ascend one hundred metres directly into the Eagle's Nest.
I'm told that this building was Hitler's 50th birthday present from his favourite mates in his very own inspired Nazi party. What a guy! What a present! What a party!! Explains so much… totally insane!!!
I met a lot of people in Europe.  I even encountered myself.  James Baldwin
As part of my new emerging character I begin to hanker for the local 'look'. Store front mannequins kitted out in traditional costume lead me to imagine occasions where wearing a pair of lederhosen could be the hit of the party. What's with that?
 I don't ever wear shorts… hmm, then again…maybe it's the leather!
Thanks to travels past, my family and friends have glimpsed previous passing personalities when I have returned bearing gifts of colourful cheongsams, vividly highlighted happy coats, tastefully painted clogs (definitely an oxymoron), traditionally embroidered Romanian shirts, regional smurflike hats and one amusing mandarin skull cap with lengthy plaited pigtail attached… to be fair, my youngest child was not quite one year old and just couldn't run yet.
If you reject the food, ignore the customs, fear the religion and avoid the people, you might better stay at home. James Michener  
There was also a period of time when I cooked cabbage rolls for a month determined that the whole family should delight in the distinct flavours of Eastern European cuisine. I can't wait to serve up some of the 1500 different German sausage tried and tested: bratwurst, leberwurst, zwiebel mettwusrt, rindswürste, rotwurst,knackwürste, bockwürste, leberkaese, frankfurters, nürnberg sausage and everyone's all-time favourite weiβwurst. I just know how excited the family will be!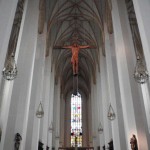 I wander historical towns and ancient cities enthralled by the architecture of the exceptional and the anomalous. I was therefore quite surprised while eyeing the interior of a beautiful Munich cathedral when my thoughts turned from bricks and mortar and my newly emerging identity discarded my cynicism of Catholicism with gay abandon and pondered the possibility that just maybe the Pope might serve a higher purpose in our world. For what, I now ask? Turning rosary beads into a fashion accessory or for bringing back a new enthusiasm for long frocks, medieval chanting and kissing rings??
The whole object of travel is not to set foot on foreign land; it is at last to set foot on one's own country as a foreign land. GK Chesterton
Interestingly, I live in a tourist area back home in the beautiful world heritage area of the Blue Mountains outside Sydney. Often, I see buses passing by overflowing with tourists armed with flashing cameras. Apart from the amazing scenery, I often wonder what these people find interesting about our Aussie lifestyle, our audacities, our parochialism and our appropriated culture.
I can only imagine they have listened to the inimitable Mr Twain when he profoundly observed "Travel is fatal to prejudice, bigotry, and narrow-mindedness, and many of our people need it sorely on these accounts.  Broad, wholesome, charitable views of men and things cannot be acquired by vegetating in one little corner of the earth all one's lifetime."
Or maybe they are just discovering their own intrepid traveller within!