Sculpture monumentalises everyday life.
28 Oct – 14 Nov 2010
'Bondi's spectacular coastline is transformed into an interactive canvas as an estimated 400,000 visitors engage with more than 100 sculptures.' Dr Andrew Bell SC
I love this annual exhibition because it's always exciting to see how the artists use this extraordinary exhibition space.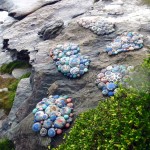 Which artworks are symbiotic to this environment? 
Which artworks encourage me to question context?
Which artworks exhibit beauty?
Which artists show quirky originality and make me smile?
What is unique about the form?
What materials have been used and how has an artist manipulated line and space?
In the past I have enjoyed sunshine saturated sculptures… but not this year.