According to legend, the name Norway comes from an old norse word Norðrvegr and means "the way north".
This name was given to the long, craggy coast because it was largely ice-free in the wintertime.
Yesterday, we joined a Hurtigruten ship for a couple of nights cruising across the Arctic Circle from Tromso to Kir
kenes. These ships have been carrying local passengers and freight between towns and villages since 1893 and they're still considered an integral part of Norway's coastal life. Since boarding we have also been closely following the coast and at various times I'd wake throughout the night and peer out my cabin window and across the icy water to just look at what I imagined would be an empty, icy wasteland… but to my surprise, I saw lights, fairly regularly… yes, people living here!
Can you imagine?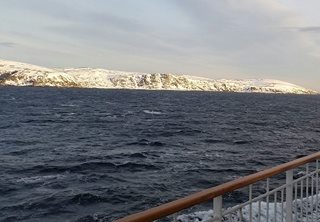 I might be making one of those crazy cultural assumptions… like someone who visits Australia and expects to see kangaroos hopping down our city streets.. but when I look at this amazing coastline, I'm guessing it must be one of the most inhospitable and harsh environments on our planet, and yet, people are thriving here, healthily and very happily.
Our ship, the Kong Harald, is apparently a working ship and so I thought we should commit to this new found, Nordic ethos and work hard too… because as all good Aussie Baby Boomers know… life wasn't meant to be easy!
Our first task I set us on board, contained several sections: find a bar; decipher all the unknown choices on the wine list; contrast a lighter Portuguese red with a slightly heavier Italian; make a choice and finish our first welcome drink onboard. Tick.
Our second task was much harder because of all the decisions needed to struggle through and complete it fully. Should I have salmon again for the third time today? Are pickled herrings really a Norwegian Masterchef moment? How many unknown, runny, ripe cheeses can one fit on a platter? How many laps of a ship are mandatory to fit in any of the deliciousness lying in wait at the dessert bar? Yes, you can only imagine how hard we worked at this… but we managed. Tick.
Our third and final task was thankfully a little easier: find our way to the viewing deck; snare two really comfy lounge chairs together in front of our own huge window; put our feet up; order a well deserved nightcap and discuss our excursion tomorrow to the North Cape. Tick.