Apparently, I don't enjoy returning to destinations that I've visited previously.
I guess it's like eating that second ice-cream. While the first may have been the classic, culinary experience of a lifetime, that second yearned for repeat performance never quite lives up to expectations.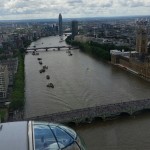 I first visited London nearly 20 years ago and while I've used both Heathrow and Gatwick as bouncing off points at various times since, I've had no real desire to return and play 'Which Line Is That?' on the Tube since my first heady tourist days back in 1998… so when my young friends Megan and George decided to follow in royal footsteps and celebrate their own nuptials in London then I packed my bags and my daughter and we accepted their kind invitation to party hard and check out London in their summer.
I hoped to revisit Her Maj so I practiced my courtesy, packed my best gloves and got my wave on. I looked forward to once again watching the guards change places down at the front gate or at the very least, I hoped to catch a glimpse of Harry and possibly the family jewels. And to top all this, I couldn't wait to sit atop a red double-decker under clouds with silver linings and play 'Icon Spotting' with Prue.                                                              
Yes, we would cross their bridge; climb that tower; drop in at the palace gate; see how big Ben really is; find that ever concealed circus at Piccadilly; check the time at 0 longitude and get pics with the royals in wax.
But we didn't!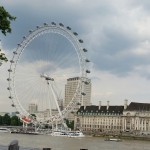 When it came time to play tourist in between imminent nuptial bonding, I just couldn't raise the enthusiasm to revisit sites I'd seen before and instead we hit the South Bank of the River Thames and fast tracked a trip on the London Eye while I conveniently forgot that I loathe and detest heights. I am constantly surprised at the change that overcomes me when I travel and I begin to believe I'm someone else and therefore do things I wouldn't dream of doing at home!
After all the excitement of being 135 metres above the Thames, we wandered down to St James park and found a squirrel before heading back to enjoy the little green park I'd spied across from our hotel. We watched locals in the pub up the road loudly give instructions to the World Cup refs and we ambled up to Portabello Road Markets on a lazy Saturday morning to hunt down a bargain. One day we even worshipped at the altar of modern art in its very own contemporary cathedral – the Tate Modern. Oh what a delight, thank you London!
I love London and I love that it does pomp under any circumstance and traditions better than most, like… white Christmases,
strawberries with tennis, towers, bridges, waxed people and even muddy rivers…  but I don't love their summers. It doesn't feel hot enough and it comes and goes on a whim. For the first three days of this visit, it just felt like a Sydney winter.
I will remember all this when I return next year tho, when I visit one of my nearest and dearest who is now planning on living here for a couple of years. I don't really blame her because it really has been fun!
I've decided revisits just need a different approach. Thank you London!