Seven Questions Only                    
What did you expect to see?
Gulags, frozen peasants and snow! Ok, so I needed an update since watching Dr Zhivago but isn't that why we travel?
What did you find?
Not a gulag or peasant, frozen or otherwise, in sight! It's a wonderfully modern, diverse, interesting and quite prosperous Russian oblast (state/province) that destroyed every ignorant, preconceived stereotype I may have held.
Was there snow?
Yes! Yes! And more yes! But my idea of snow was so limited. I don't believe I could ever have imagined how much snow there was or indeed, how beautiful it would look to my dusty Australian eyes. Rooftops on gingerbread houses were iced with thick, heavy layers of freshly fallen snow; larch trees on hillsides stood firm and dusted in white powder that glistened like sugar in the late afternoon sunlight; fallen, wooden paling fences sank deep into the snowline all the time outlining quilted downy fields that reflected the myriad pinks splashed down abstractly by the setting sun. Falling asleep to this fairytale scenery we travelled from Asia on the train for four nights before awakening, 5200kms to the west in Europe, to the same snow covered story. It is an immense and beautiful part of our planet!
How did you fill your days?
We wandered around the village where individuality and old world charm oozed together from the wooden fenced backyards, public corner wells and winding streets.
Crossing a snow encrusted bridge we spied an old Russian Orthadox church at the end of a lane and entered wondering what kind of faith we might find. Dedication to service was worn on the sleeve of the young nun who greeted us at the door; a timeless story of sacrifice and love was revealed in the murals that elaborately adorned every corner of the 170 year old timber structure that had survived a religiously oppressive political time; multiple candles burned for loved ones while icons were sold in a corner of this ritualistic space. We moved on.
Outside we found a dog sled company and paid the tourist price for a local experience. I can't complain. It was great fun!
Which was the best part?
Without a doubt… walking on the frozen Lake Baikal.
This  is the deepest (1637m) lake and holds approx. 20% of the world's freshwater supplies. Snow covered turquoise ice blocks piled up across the surface hint at what lies beyond.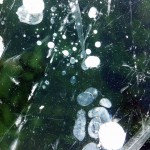 The lake is covered by a 50cm layer of clear ice that magnifies the dark depths below. Because the water below is so clear we could just make out the rocks up to 10 metres below on the bottom of our bay. It was fascinating to see whispy veils of cracks in the ice and various size bubbles trapped below while Aussie tourists kicked ice footballs or danced the cancan and etched abstract markings onto the glassy surface.
How was the food?
We were welcomed with warm piroshky (fish or meat pasties) and our fingers frozen numb from the unforgiving winds outside slowly thawed as they wrapped around bowls of steaming solyanka (meat soup). Our taste buds reveled in the delights of Russian champagne and local caviar on toast before we dined heartily on smoked fish and potatoes before celebrating late into the night like real Russians with vodka shots, beer and the occasional Georgian red. It is easy to party hard when you feel so satisfied and warmly welcomed.
What did you learn?
I realize that past generations here at various times have suffered harsh realities and oppressions that I will never fully comprehend and also atrocities that I choose not to contemplate… but I also realize this is what has made the contemporary people who they are today. They are not dwelling in the past but are learning from it. The modern Siberian is aware of their many indigenous peoples and rightfully proud of their heritage. They have big hearts and are a modern, vibrant part of Russia today. While my contemporaries here grew up under extremely different circumstances and restrictions to myself, our children are growing in similar worlds now that are connected, blended and full of opportunity. I wonder only about who will squander their opportunity.
What would I like to say to Siberians?
Spa-see-ba = Thank you!
Das ve danya = Goodbye!
Nas da rovia = Good health!