'Is this the real life? Is this just fantasy?
Caught in a landslide, no escape from reality
Open your eyes. Look up to the skies and see….' Freddie Mercury 
All I could hear reverberating with every step were the words from Queen's infamous song…. until finally all those voices in my head joined in one brilliant operatic crescendo!
'(Galileo) Galileo (Galileo) Galileo, Galileo Figaro'.
Oh the joys of my own personal karaoke!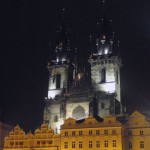 Prague (Praha) is the capital of Bohemia and must be one of the most picturesque cities I have ever visited. It's winding, cobblestone streets draw each visitor into its world of ancient cathedrals and fairy-tale castles adorned with magical spires.
Indeed, Freddie! Open your eyes. Look up to the skies and see… Oh, what a site!
Bohemia has an area of 52,750 km² and is home to 6.25 million of the Czech Republic's 10.3 million inhabitants. It is bordered by Germany, Poland, Moravis and Austria. When visiting Prague you might spend a night at the opera and think of Freddie, although I decided instead, to spend an evening with Mozart, Bach and Vivaldi in a cathedral along with some new German friends I had met on the train coming up from Munich.
The next day, I joined another group at the castle to watch the changing of the guard and to gaze from the ancient stone walls.  'I'm easy come, easy go. Little high, little low' The city unfurled below like an ornate blanket embellished by mystical towers and crowned by bejewelled turrets. A short stroll down the hill brought us to a local restaurant hidden amongst the vines where, on such a lovely day it just made sense to stop and enjoy a goulash and red while the world wandered by.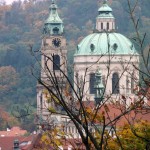 The river Vltava flows through the middle of this age-old city and is crossed by seventeen bridges.
The Charles Bridge is the granddaddy of them all and in the middle of the day it is cluttered with hawkers and tourists so a cruise under it with mulled wine seemed a great solution. I returned later one evening to stroll across the bridge when I didn't have to share it with quite so many.
To complete my bohemian experience I travelled to the beautiful township of Kutna Hora.  From the 13th to 16th centuries the city competed with Prague economically, culturally and politically. It is easy to see why this precious treasure hidden away in the countryside was declared a UNESCO heritage site since 1995. Cobblestones, courtyards, cathedrals, churches and cemeteries were all fascinating but nothing could prepare me for the Sedlec Ossuary!!
Macabre decorations on the walls and the ceiling have been created from tens of thousands of human bones. Henry the abbott and Frantisek Rint were an interesting team! Bizarre!!
It even has its own happy little motto: 'What you are, we were! What we are, you will be! 'Thunderbolt and lightning, very, very, frightening me!'
I've always thought there was a bit of bohemian within me. I really enjoyed my journey in this part of the world and I can't wait to return one day… maybe one Christmas when I can toast Good King Wenceslas with gluhwein.
'Anyway the wind blows… doesn't really matter to me… to me.' (fade)