Oktoberfest is the largest folk festival in the world. It is held annually in Munich, Germany and over 6 million people are expected to attend during its 16 day run.
In 1810, Bavaria's Crown Prince Ludwig married Theresa of Saxony and so the happy townsfolk held a party in a large field to celebrate. It was so popular that they held it again the following year and have ever since in that same field named Theresienwiese. It originally was held during October but the Wiesn began to start in September in 1872 to take advantage of better weather.
 It now begins with a traditional parade of draught horse drawn carts hauling in the beer, accompanied by women dressed in dirndls and men wearing lederhosen.
Apart from beer tents at the site, there are food stands, rides and so many interesting people to watch… oh, and family day is held once each week.  2010 is the 200th Anniversary and… the rest, is history!
What's it all about?
Well, for most people…
"It's about the Bier!" 
Beer gardens, beer tents and beer halls all offer a 'mass' which is one litre of beer and a whole lot of fun! There are no difficulties in meeting and making friends. In fact, I felt no barriers from age, sex or nationality… everyone gets along!
Hmmm, I'm thinking that maybe these Germans have stumbled upon the solution for world peace!
The Bier Tents are not 'tents' but more extravagant timber constructions decorated with thousands of kilos of hops. Each one takes months to construct and are rebuilt every year.
Entering a huge bier tent for the first time is awe inspiring! I have only ever seen crowds like this at the Olympics or maybe at a great stadium rock concert. But the meaning of the word 'crowded' was redefined when our group finally landed ourselves in one late one night. This 'tent' was full and jammed packed with at least 8000-10000 people standing on their chairs, singing, dancing and drinking along with the band. I don't think there are any laws about maximum occupancy so they packed us in and closed the door… wall-to-wall, a sea of happy sweating swaying people!
At the very end of the night everyone rolled out the door and wandered down to a train where we once again were patiently packed in like sardines and distributed home. The most amazing thing was that during all this time I didn't see one fight and everyone stayed happy!
Now, THAT's what I'd like to bottle and take home with me! Or better still… how about attendance in a beer hall be made mandatory before all sessions of parliament… or attendance at the UN!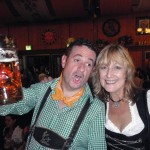 Prost!