I like to live in the present… especially on my birthday!
So today I took myself to Cockatoo Island to see the more outstanding part of the 17 Biennale of Sydney/2010 
So I wrapped myself up and stepped out into a soggy, soaked Sydney. I love being on the harbour at anytime and today was no exception. The Biennale's free ferry leaves from in front of the Museum of Contemporary Art and so I jumped onboard alongside students on excursions and those little National Trust ladies that turn up at these events. It took me past a rain veiled Opera House, under the old coat hanger and slowly up to Cockatoo Island.
 How good is Cockatoo Island as venue?
The simple answer is BRILLIANT!! Why didn't they think of this 17 years ago when it first started? Really, what else can you do with an old prison and a shipyard? Still better late than never! There are 56 artists' installations and works… and I need to go back. One day is never enough to be filled by innovaters that make me think! 
Ok…  just a couple of pics to give you a taste… get yourself up and out there!
Cai Guo-Qiang
Born 1957 in Quanzhou City, China Lives and works in New York, USA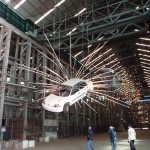 I quite like Teddy Bears with embellishment… don't you?
 Rohan Wealleans – Born 1977 in Invercargill, New Zealand.  Lives and works in Auckland, New Zealand 
I was over video installations about 10years ago… and I still am because when will there be further development. It should have moved on more by now, don't you think?
  And maybe you can finish off at the MCA… although… in my opinion, while always fascinating it is by far the more conservative part of the Biennale this year.